New zines in the Click Clack Distro catalog - http://www.clickclackdistro.com
Some of the new zines in the Click Clack catalog: No More Coffee #1 & #2, Toothworm #4, Your Pretty Face is Going Straight to Hell #2, #4, #5, #7 & #8, Learning Good Consent, Mental Potential & Sweet Emotions, Sick, When Language Runs Dry #1 & The Worst
Also:
Asylum #1/High On Burning Photographs #5xml:namespace prefix = o ns = "urn:schemas-microsoft-com:office:office" /
This is a great split zine done between Matt and Ocean. This is a unique split due to the fact that Matt is currently incarcerated having met Ocean via a prisoner book program. He had written a delightful letter to the program which Ocean enjoyed so much that they became pals and thus a split zine ensued. Matt writes of a sick cellmate and how he basically became his caretaker, how he created a home in Folsom Prison, and his lack of parole plans. Ocean shares an amazing story of helping her employer attempt to recreate a Jackson Pollock painting, how she broke into her queer identity, and homesickness for NYC. Both zinesters share some books they have read recently as well.
Cipher #1
I love how this little pocket sized zine contains just about everything. It's really amazing what Chris fit into her first issue of Cipher. Perzine plus recipes plus Harry Potter plus language; it's all packed in this zine. Chris writes a "postmodern herbal" listing all of her favorite things and hobbies and what their healing properties are. I really loved the section she wrote about corduroy (yes, the fabric) and its linguistic origin. The zine wraps up with a critique on the lack of female presence in the Harry Potter series and how Chris is delving into the fan fiction of HP.
Doctrinal Expletives #5
This quarter-sized perzine by Helen in xml:namespace prefix = st1 ns = "urn:schemas-microsoft-com:office:smarttags" /Maine is excellent. Doctrinal Expletives manages to pack so much variety into a zine without losing the reader. The first section deals with Helen's experience in getting an IUD as her method of birth control. We then get to meet the nerdy side of Helen as she explains her favorite heavy metal films, her love of history, and some badass females of the ancient world. This definitely got me excited to learn more about some of the awesome ladies who have made an impact on our world. Doctrinal Expletives #5 closes with a piece on friends & family in which she makes great points of communal living and pressure to bond further than she is comfortable. Very insightful.
Don't Be a Dick
This is a zine about stopping sexual violence and how men can play their part. Although, geared towards the hetero cis-gendered male, I think many different people can still learn from this zine. Paul, who authored this zine, writes about "rape culture", consent, pornography, and lists many great resources. I like how Paul speaks of the messages men get from society about intimacy with a woman and how he is working to reject them. Whereas I do not completely agree with the opinions about pornography objectifying women, I do see where he is coming from. Certainly there is pornography out there that does, but there is also more than just that type of erotic film out there. I still think this is a good read and resource for all.
Hello Alabama: A One Shot Disaster
Courtney of Muse zine moved from North Carolina to Alabama in order to attend grad school. This typewritten zine lays out the heartache she has experienced since her move. Being that her partner is from Alabama, she felt prepared in relocating since he would be with her. Culture shock set in quickly as Courtney realized that in her new town people would assume that she automatically shared the same values, attended church, and would be receptive to racist comments because she is white. Even a guest speaker shows how racism plays a part in this deep part of the south when Courtney learns he is from a nearby library system called, "Uncle Remus." The other thing that weighs on Courtney is having to stifle her pro-choice politics because of anti-choice terrorism that runs rampant in parts of Alabama. She also touches on greenwashing and recycling in this one shot zine. And to not have the zine finish on a bad note, there is a "cheer up" list at the end.
How To Guide on Starting a DIY Events Calendar
This is a great little guide on how to keep a calendar in your city or town for upcoming events. It begins by showing you how to start the calendar including where to find the events and how to put them down on paper. Images of some of the calendars from Pittsburgh & Ohio are included to give an idea of how this calendar/flyer can look. There are also tips on how to keep the project in action and how to distribute your completed calendars.
New To Everything #8
A great personal zine from Pittsburgh by a woman named Leanne. New To Everything #8 contains quaint stories of memories and observations. She starts off with breaking her fear of motorcycles ending up with her very own motorcycle license. Then, there is Leanne's love of Doo Wop music and the Sunday nite radio show which brought it to her. Tarot readings and a quarter life crisis follow. The writing in New To Everything is quick and detailed like good photographs.

Click Clack Distro
USA - FREE Priority shipping for all orders over $20!
International - $5 First Class shipping for all orders over $20!
THROUGH December 25th!!! Get some ziney stocking stuffers!
Since there is no way i'd make NaNoWriMo... I am going to go for National Blog Posting Month.
Richmond Zine Fest
2009! Nov. 6th (sneak peek) 7 PM - 11 PM limited tablers and a few zine readings. Nov 7th (the full-on fest) 11 AM - 5 PM about 40 tablers & several workshops. The full line-up is at our website!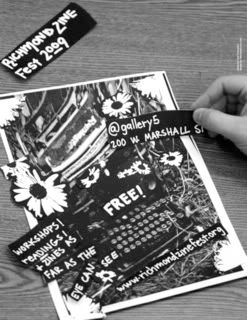 The

October is SIDS (Sudden Infant Death Syndrome) Awareness Month. As you may or may not know, I have a newphew who passed away at 4 months old from SIDS in the summer of 2007. My zine Introvert #6 is about my experiences with that trying time in my family's life.
For the entire month of October 20% of all sales at Click Clack Distro will be donated to First Candle, a SIDS organization that has truely been a blessing for my family.
Order some zines to help the cause!
Hey Zinesters -
If you are interested in having your zine on display in Richmond's very own
Gallery 5
throughout the month of November please mail it into us at the
Richmond Zine Fest
. The RVA Zine Fest this year is partnering with Gallery 5 in order to bring zines as an art form to the people. All art on display through November will integrate with zinesters and the printing process. The Richmond Zine Fest will kick off this exhibit Nov. 6th and 7th. There will also be an interactive zine display so patrons of the gallery can read your work.
Mail your zine(s) to:
Richmond Zine Fest
PO Box 35501
Richmond, VA 23235
USA
Please specify that your zine is for the Richmond Zine Fest art show. Zines will NOT be returned. They will be donated and split between the VCU Special Collections zine library, the Flying Brick zine library, and an upcoming info shop to the Richmond area.
Hi friends!
Just an FYI to all the zinesters in my life who also create other forms of art, that the information for submitting work to the exhibit running alongside the Richmond Zine Fest is up on our website:
http://www.richmondzinefest.org
A gallery full for an entire month with art ONLY by zinesters! Pretty damn cool!

Singing songs on the eve of destruction
She's a sucker for
All the criminals breaking the laws
She will come in first
For the end of the western civilization
She's an endless war
She's a hero for the lost cause
Like a hurricane
In the heart of the devastation
She's a natural disaster
She's the last of the American girls
She plays her vinyl records
In celebration of International Zine Month for July 2009 I am creating a compilation zine about how YOU got into zines. The zine will be titled, "ENTRY POINT" aka "How did I get myself into this mess?" It's time to spill your guts about how Sassy Magazine, Riot Grrrl, the book Hard Love, etc turned you into the zinester you are today.
The format will be 1/2 sized. What I would like is for each zinester wanting to take part to submit their own ONE page of a 1/2 zine, already layed out. I think it will give an interesting look to have all of these zinesters from all around the world use their own style and layout techniques to talk about how they got into zines. If you want to be able to be contacted, or even promote your own projects, please list your contact information on your page.
I would prefer that these are mailed to me so i can paste them all ready to go in a mock up. Emailing is also an option, but remember the quality just won't be as good if i have to print it out.
Each person who has an entry and any zine distros interested will receive a "flat" from me. The idea is to give this zine away for FREE in the month of July. You can make your own copies to give out to as many people as possible.
If you wish to participate please submit your piece NO LATER than
April 30, 2009.
(EXTENDED FOR A FEW DAYS!!)
I will do the mock up about May 15th/16th and i will ensure everyone has their flat at the beginning of June so they can get their copies ready for International Zine Month in July.
Submit work to:
Nicole Introvert
P.O. Box 35501
Richmond, VA 23235
USA
Questions? nicole.introvert@gmail.com
Would you like to donate some cash to help with the cost of copies/shipping? Pay Pal any donations: nicole.introvert@gmail.com
IZM Blog:
http://internationalzinemonth.wordpress.com/